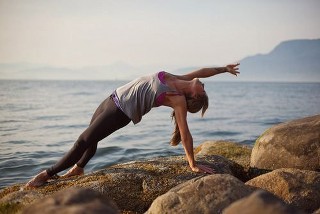 "I'm not flexible enough" is an all-too-common response to the question, "Have you ever tried yoga?"
The truth is you don't have to be flexible to do yoga. Yoga will likely improve your flexibility as you practice, but you don't have to start out that way. You don't have to be young, either. You don't have to be tall, short, thin, fat, patient, impatient or any other thing. If you're breathing, you can do yoga.
There are almost as many styles of yoga as there are teachers. Some classes are slow and restful, while others are athletic and vigorous. You can even do a yoga class in a chair! Be willing to try different classes until you find one that is right for you.
The benefits of yoga are countless. It can improve your strength, balance, coordination, range of motion, and, yes, flexibility. It can also lower your stress level and improve your focus and concentration. Lucky for us, even in our small community we have a couple yoga classes to choose from!

What's one of the hottest grapes (and wines) right now? You say you haven't heard of Albarino? A little background: albarino is a grape variety grown mostly in Spain in the Rias Baixas region; although it's also grown in Portugal, Australia and increasingly in the United States. It usually produces a white wine of light to medium body with a distinct citrus and floral character and a medium alcohol content. Albarino also tends to be very dry and very crisp, sometimes bordering on tart. It goes very well with seafood, some curries and even lighter meat dishes.
Each of the 6 wines we tasted were very similar in character, with the more expensive having a bit more complexity. So if you like your wine dry, crisp and citrusy, try some of these. Serve well chilled.