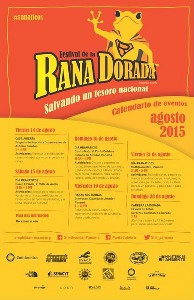 August 14 is National Golden Frog Day! Why does this frog have it's own day you ask? The golden frog is a critically endangered amphibian that is endemic to Panama. The bright yellow amphibian, has become a symbol of Panama, ppearing on lottery tickets, souvenirs, maps and more. Believed to bring good luck, the tiny frog, that's actually a toad, has great cultural importance.
This year's Golden Frog celebration in El Valle will take place on Aug. 15 in the plaza commercial Paseo El Valle starting at 11:00 a.m. There will be educational activities for kids, food trucks, music and more!
The golden frog festivities in El Valle will continue on later in the month on Aug. 30 with a race. There will be 5k, 10k, and 15k tracks, inscription closes on July 26th and is offered at a cost of $25.00 for more info on this event visit caminandopanama.com
 If you are unable to attend the events but would still like to learn more about the golden frog, you can see the little creature in captivity at El Nispero, the zoo in El Valle. The golden frog exhibit is open daily 9:00 a.m. – 5:00 p.m. Closed Tuesdays.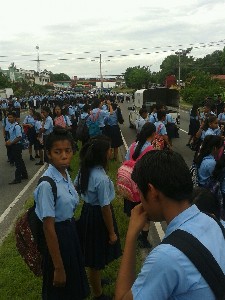 August 10 2015 - 10:44 A.M. There is a protest taking place in front of the High School in Chame. The protestors are primarily students. We have information stating their demonstration is in response to the unreliable electricity the school has been receiving.
Both directions of the highway are blocked causing significant traffic. We recommend avoiding the PanAmerican Highway in Chame and the surrounding areas.
We will update once the highway is clear.
Update: 11:45 A.M.. - the road is clear. The protest lasted about 45 minutes in total.